Lunchtime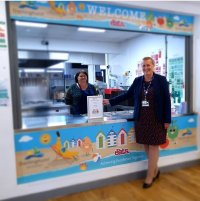 School Meals
All meals are cooked from scratch in our kitchen with fresh ingredients
The current cost of school lunches is £2.20 per child
Read the menu
Payment should be made in advance via ParentPay
Free School Meals
All children in Reception and Years 1 and 2 are entitled to free school meals.
For children in Key Stage 2 (Year 3 - Year 6) to qualify for free school meals, parents/carers must satisfy the eligibility criteria and provide a copy of currently-dated evidence as shown below:
Receive Income Support
Receive Income-based Jobseeker's Allowance
Receive Income-related Employment and Support Allowance
Receive support under Part VI of the Immigration and Asylum Act 1999
Receive the Guarantee element of State Pension Credit
Receive Child Tax Credit, provided they are not entitled to Working Tax Credit and have an annual income (as assessed by HM Revenue & Customs) that does not exceed £16,190
Receive Working Tax Credit during the four-week period immediately after their employment finishes or after they start to work less than 16 hours per week
Please note that children who receive Income Support in their own name also qualify.
If you are applying for free school meals for the first time, please use the online application process at www.southend.gov.uk/fsm if you are able. For free school meal renewals, please complete a "Registration for Free School Meals and Pupil Premium" form (see Downloads to the right).
Additional information about our school meals
Occasionally, it may be necessary to change menu items. This is sometimes due to severe weather problems or product availability, but rest assured, we do not compromise on ingredient quality.
We aim to use around 90% fresh ingredients when compiling our menus
Our menus have compliance with nutritional standards
We cook and serve approximately 400 school meals each day enjoyed by both the children & staff
Meat is farm assured, Red Tractor Standard
Fish served is from sustainable sources
Eggs are free range
No GM ingredients & no undesirable additives or hydrogenated fats are included
Packed lunches
We encourage children to bring healthy packed lunches into school. Packed lunches should not contain glass bottles, cans of fizzy drinks or sweets. We also ask that foods containing nuts are not brought to school in order to safeguard children with serious nut allergies. Packed lunches should be brought in a suitable lunchbox clearly marked with the child's name and class. Healthy lunchbox advice can be found here.