Parents SATs Information
National curriculum tests (commonly called SATs) are usually held in May.
The results are an opportunity to compare children nationally to ensure that we are helping children to master the basics in English and mathematics, and make progress. They are also an important tool to help teachers identify children who may need additional support, and make sure this is put in place as early as possible.
KS1 tests can be taken any time during May and they are not strictly timed. Most children will not know they are taking them as teachers will incorporate them into everyday classroom practice.
Subject
Test Paper
English reading

2 papers: short text and questions;

longer text with separate questions

Mathematics
2 papers: arithmetic; mathematical reasoning

English grammar,

punctuation and spelling

(optional)

2 papers: spelling; punctuation and grammar

(including vocabulary)
The key stage 2 tests will be taken on set dates, unless your child is absent, in which case they may be able to take them up to 5 school days afterwards.
SATs Preparation Tips for Parents and Carers
Please click here for more details on Key Stage 2 SATs
This time of the academic year can be stressful for children in Year 6. There are the forthcoming assessments and a change of school ahead.
Here at Darlinghurst, we support children with 'readiness' for their next stages in learning and life, through teaching them skills, promoting growth mind sets and considering mental health.
You will know your child best and will choose which tips from below will help with your child;
Revision
• Your children have been well prepared in school. They have experienced past assessment papers and revised key curriculum areas to give them confidence.
• Spend short bursts over the remaining days revising key areas to show your child how well they are doing.
• Use the study books and the BBC 'Bitesize' website:
http://www.bbc.co.uk/schools/ks2bitesize/ to help make any last minute revision fun and manageable.
Wellbeing
• Remind your child how well they are doing and how proud they make you feel.
• Help your child to put the assessment week into perspective. Whilst we all want them to do well, we want them to be reassured that life goes on as normal after the assessments!
• Help your child to continue eating healthily in the run up to the assessment week. Don't let them skip meals.
• Help your child to get sufficient rest. Make the hour before bedtime as relaxing as possible - no revision then. Perhaps a bath, a story or a similar calm activity to help wind down before bedtime.
Readiness
• On the day of an assessment give your child plenty of reassurance. Remind them how well they are doing, how proud you are and how you will be happy to know they have done their best.
• Consider a few simple, relaxing treats during the week - perhaps a trip to the park after school, a hot chocolate in a café or something else to help maintain momentum throughout the assessment period.
• Try to avoid 'grand gesture' promises e.g; I will give you lots of money to spend on holiday. These kinds of promises often add to the stress. Keep any extra-special treats as a surprise for the summer holidays!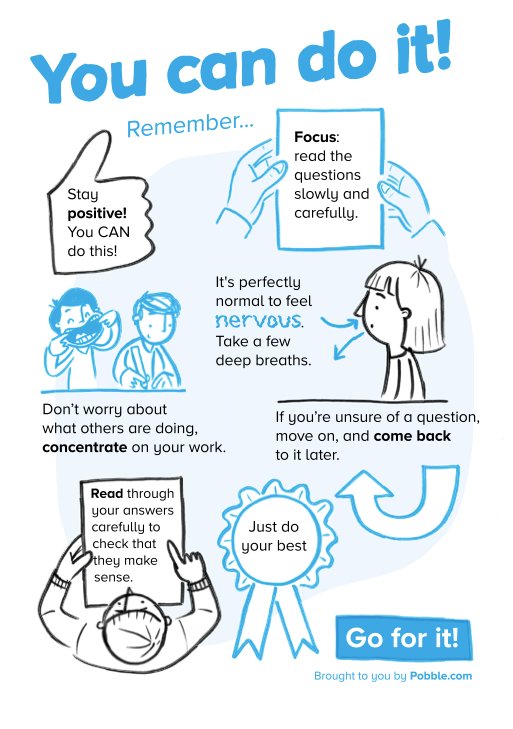 Information for parents - 2017 national curriculum tests at the end of key stages 1 and 2
Please follow the below unique link to log into Accelerated Reader website.
The URL is: https://ukhosted20.renlearn.co.uk/2237772/