Parents SATs Information
National curriculum tests (commonly called SATs) are held in May.
The results are an opportunity to compare children nationally to ensure that we are helping children to master the basics in English and mathematics, and make progress. They are also an important tool to help teachers identify children who may need additional support, and make sure this is put in place as early as possible.
KS1 tests can be taken any time during May and they are not strictly timed. Most children will not know they are taking them as teachers will incorporate them into everyday classroom practice.
Subject
Test Paper
English reading

2 papers: short text and questions;

longer text with separate questions

Mathematics
2 papers: arithmetic; mathematical reasoning

English grammar,

punctuation and spelling

(optional)

2 papers: spelling; punctuation and grammar

(including vocabulary)
The key stage 2 tests will be taken on set dates, unless your child is absent, in which case they may be able to take them up to 5 school days afterwards.
Date
Subject
Test Paper
Monday 8th May
English: reading
1 Paper
Tuesday 9th May

English: grammar,

punctuation and spelling

2 papers: spelling;

punctuation and grammar

(including vocabulary)

Wednesday 10th May
Mathematics

2 papers: arithmetic;

mathematical reasoning

Thursday 11th May
Mathematics

1 paper:

mathematical reasoning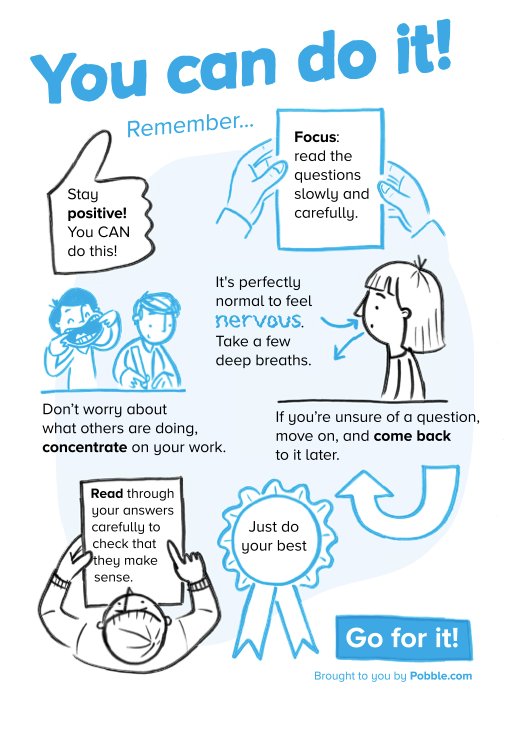 Key Stage 1 National Curriculum Assessments
Key Stage 2 National Curriculum Assessments
Information for parents - 2017 national curriculum tests at the end of key stages 1 and 2