Early Years Provision - The Rockpool
Welcome to the Rockpool – the Early Years

Our Early Years provides the foundation learning for our 3–5 year old children within the Rockpool.
Our 3–4 year old children begin their journey in Tiddler's, the Darlinghurst Nursery and continue their journey into Reception as members of Jellyfish and Starfish.
Children can also start with us in the Reception year, selecting Darlinghurst as the school of choice within the admissions process. Please click here to visit the admissions page.
Throughout their time in the Rockpool, children develop their curiosity and wonder as they explore, discover and create. The Rockpool is a dedicated area for Early Years provision, with indoor and outdoor zones, across the Foundation stage.
We believe in providing the best care, environments and learning experiences to enable our children to learn and develop to their full potential. Our provision is a balance of adult-led and child-initiated learning. This ensures that our children are successful, confident and active learners with positive attitudes to learning and academy life. The Early Years environment is an exciting place to learn and play across all our zones. The Early Years team interact and observe our children in play, maximising every learning opportunity.
Within the EYFS there are four themes that are important to ensure all young children make good progress in their earliest years of education: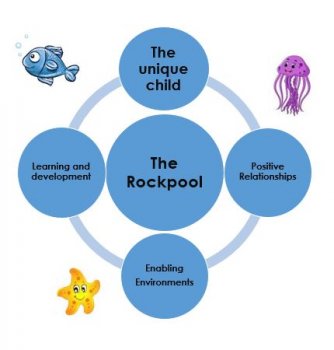 At Darlinghurst Academy, our children are at the centre of all that we do. We pride ourselves on providing a caring, creative and positive learning environment where learning opportunities are introduced through the seven areas of Learning and Development to support each and every child:
The seven areas of learning
The three Prime areas are particularly important for building a foundation for igniting children's curiosity and enthusiasm for learning, forming relationships and thriving.
• communication and language • physical development • personal, social and emotional development
Four specific areas support our children's early development in the following
• literacy • mathematics • understanding the world • expressive arts and design
The Specific areas are applied throughout learning experiences, strengthening the Prime areas.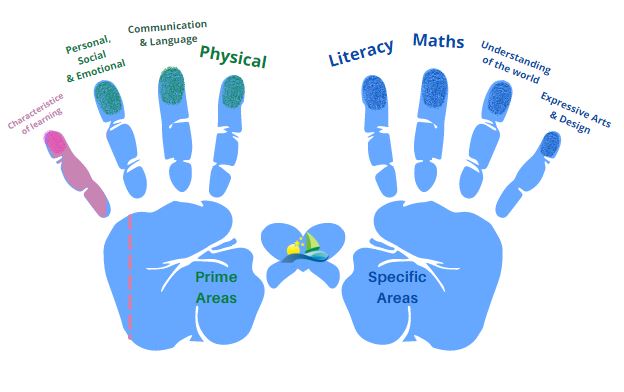 At Darlinghurst we support our children to gain a range of skills and develop the characteristics they need to grow into thoughtful and responsible individuals.
In the Early Years we help children to develop characteristics of learning alongside building their confidence and resilience for lifelong learning.
All children will have an online Learning Journal known as Tapestry. This is a celebration of their achievements and progress during their time in the Rockpool.
The journal is accessible by both parents and the Early Years team. It contains observations, photographs, samples of drawing, writing, art work and documents their experiences, skills, interests and progress within the seven areas of learning identified in the Early Years Foundation Stage Curriculum.
The Early Years follows the Statutory Framework for the foundation stage