Welcome to Darlinghurst Academy's website
To see our Darlinghurst communication - keeping in touch - Click here
Software Links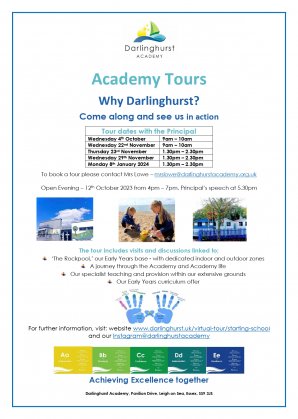 A proud member of Legra Academy Trust


September 2023 Gate Times









Set in the heart of Leigh-on-Sea, Darlinghurst Academy prides itself on providing exciting opportunities for children throughout their educational journey, identifying and nurturing individual talents, preparing them for a happy and successful future.
At Darlinghurst, we safeguard the welfare of our children, ensuring that they play happily and safely, engaging in activities and building their interest, supporting them physically and emotionally. Our spaces support them to explore and discover, learn and create, building awe and wonder. We encourage playful spirits, curiosity and a sense of adventure, inside and outside the classroom.
Our staff help our children to become resilient, capable and confident children. As a result, our children cooperate well with each other.
We provide intentional and responsive experiences, teaching in authentic contexts and varying situations, ensuring that learning is purposeful and relevant. Children's understanding is deepened through connected experiences so that we improve learning and develop their fundamental skills.
We support their moral development and well-being, focusing on their emotional and social skills. We encourage them to be kind citizens contributing to living in the wider world, knowing that they are not only part of the Darlinghurst community but belonging to something even bigger.
We are truly invested in the lives of our children. They are at the centre of all that we do. Each day, our staff come to Darlinghurst ready to deliver a role that is critically important, vastly rewarding and in essence, to help our children become their best selves.




Click here to view our GDPR/Data Protection Policy