Core Skills - Writing
Why Writing?
At Darlinghurst we want our children to clearly understand the purpose for writing and enjoy becoming authors. From the first lesson in a series, children will begin to understand the reasoning behind each the purpose for each piece of writing.
Our four writing purposes are: to inform, discuss, persuade and entertain.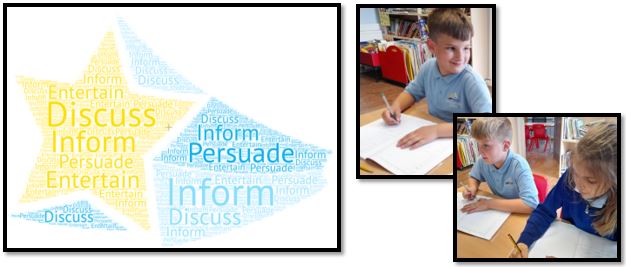 The Darlinghurst Writing approach
At Darlinghurst, we follow a layered writing approach which runs over one or two weeks (dependent of key stage) culminating in an extended, independent piece of writing. Working walls and scaffold sheets provide children with key vocabulary, grammar foci and sentence starters to support writing.
Writing each week consists of daily writing lessons: a plan, a build, an our write/my write and an editing & proofreading lesson. Teachers introduce the purpose for writing at the beginning of the week and review steps to success. These are highlighted within bespoke exemplifications and scaffold sheets written by our teachers. Children are encouraged to develop their writing through observation of teachers modelling sentences and paragraphs and collaboration with learning partners. Children edit their writing in green pen and teachers provide feedback in blue pen.
To support our writes develop a fluent style of writing by the end of key stage 2, we follow the scheme 'Penpals for Handwriting' .This teaches letter formation, letter joins and fluency. By the end of Year 2, children learn to join their writing (once they can form all of their single letters correctly). In addition, in daily phonics lessons, children are taught handwriting phrases to match letters. For example 'b': down the bat, up and over the ball, supporting letter formation and orientation.