Curriculum Statement
Darlinghurst Academy curriculum statement
Click here to download our Curriculum statement
A design that enables children (no matter what their stage or background) to develop knowledge and skills to succeed in a complex world, cultivating a sense of humanity and belonging.
Holistic success is central to our design, to increase effectiveness and improving educational excellence and life chances.
Academy values are interwoven and essential to the design
A – D leads to E
Achieving excellence together
'High expectations and aspirations are clearly embedded throughout the school. The focus is firmly on providing pupils with the best possible life chances'.
OFSTED 2019
'The school's curriculum and ethos are strongly committed to promoting equality of opportunity and all pupils are valued and treated equally'. 'The curriculum provides extensive provision, including developing life skills'.
Our intent is to make learning inclusive, purposeful, relevant and engaging through:
· Providing intentional and responsive experiences.
· Creating bespoke packages for our children and their learning needs.
· Logically sequencing lessons which provide coherent progression of skills and knowledge.
· Placing an emphasis on a mastery approach.
· Consolidating and reinforcing basic skills through homework and shared learning with parents.
· Promoting active learning and community action.
· A commitment to building children's character and behaviours for learning.
Our design is implemented through authentic contexts and carefully mapped approaches which:
· Engage children in high quality teaching and learning.
· Follow routines, habits and structures that lead to success for all.
· Ensure clear progression of skills and knowledge in all subjects.
· Use perfect starting points for exciting, engaging and motivating learning.
· Consider the lives and heritage of our children and community.
· Exemplify and celebrate the academy values.
We make a difference and impact to the lives of our children, preparing them for change by:
· Empowering them to be active citizens, that are confident individuals, effective contributors, successful learners and prepared for change.
· Developing fundamental skills that they need to build further success.
· Helping them to apply critical and creative thinking to situations.
· Evaluating their knowledge and understanding.
· Encouraging them to monitor and evaluate their own learning and behaviours.
· Ensuring they actively involved in learning.
· Enabling them to demonstrate individual responsibility.
· Supporting them to manage their emotions with an increasing awareness.
· Encouraging them to develop interests, talents in school and through collaboration and competition.
· Communicating with parents and involve them in learning and celebrations.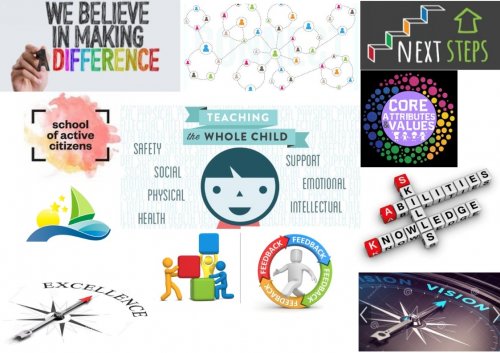 Curriculum contacts
For more information about our curriculum please contact the members of staff listed below:
Downloads