Science
Science at Darlinghurst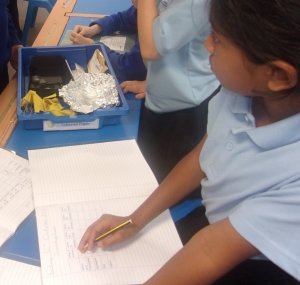 At Darlinghurst we are inquisitive and active learners who ask lots of challenging questions about how things work and the world around us. As such science plays a vital part in our curriculum and is woven into our Edison curriculum throughout the year and will be a part of almost every topic taught throughout both key stages. As science coordinator my role includes increasing engagement in the subject, ensuring the topics are adequately resourced with quality materials along with supporting and developing the teaching and learning to ensure it is of the highest quality.
In terms of pupil engagement we run special assemblies to excite and inspire pupils and in conjunction with an outside agency 'Mad Science' we also run an afterschool club which enables children to experience the real 'wizz bang' of science that is not always possible to create in the classroom.
Within lessons, science will be taught via a mixture of practical activities and investigations along with written tasks such as explanations of what they have observed and reasons why they thought something happened. A unit will start with the creation of a 'wonder wall' of initial thoughts and questions about the topic. This enables each teacher to see what the pupils know already and helps to steer the planning and teaching of the topic towards pupil's interests and answering those key questions they have. During the topic the key learning will be reinforced with links across curriculum such as reading scientific texts in guided reading.
As part of developing science I am always keen to hear from parents / carers who are involved in the industry in any way and would be willing to share their knowledge and expertise with the children. Please contact me on mrspowell@darlinghurst.co.uk
https://www.theschoolrun.com/primary-science-glossary-for-parents
http://www.stevespanglerscience.com/