Learning and Life Skills
Why teach learning and life skills?
We have no idea what the world will be like in the future and according to many experts, a good number of the jobs our children will be engaged in do not even exist at present. In such an ever-changing world all children need to develop cognitive competencies and learning and life skills which enable them to adapt to a variety of educational, technical, social and cultural changes. Due to the rapidly changing world and therefore job roles, here at Darlinghurst we aim to equip all children with the skills necessary to communicate well, develop character and to think so that they become independent and life-long learners.
We teach learning and life skills to teach children the knowledge, learning and habits that they need to be successful learners now and in the future.
Teaching learning and life skills also enhances the development of pupils behaviours, moral and social developments - shaping the whole child.
The Edison Learning and Life Skills are a coherent set of Learning Units designed to ensure learners learn effectively and are equipped for lifelong learning, no matter their Key Stage, or their age.
Central to the Learning and Life Skills approach is the involvement of pupils in exploring their understanding of and assessing their own progress against explicit criteria - the 'I can' statements, and doing this across all year groups.
At Darlinghurst our six learning units are
· Autumn 1 - Learning together
· Autumn 2 - It's up to me!
· Spring 1 - Becoming a Better Learner
· Spring 2 - Knowing me, Knowing you
· Summer 1 - Think, Think, Think!
· Summer 2 - Speaking and Listening
During the summer term children and staff are developing thinking skills;
Think think think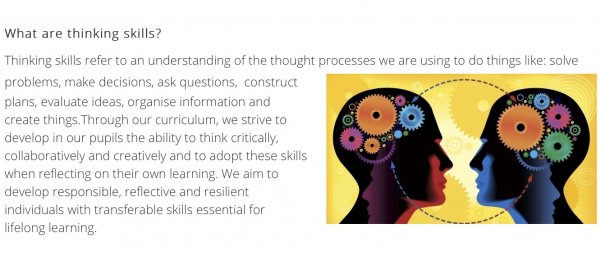 Each week in news and views parents and children are encourage to think and talk about philosophical questions;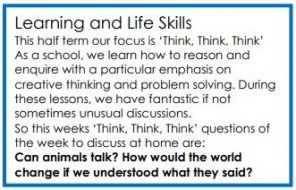 At Darlinghurst Academy we know that children who have a positive attitude towards their learning will make good progress and be successful. Consequently, instilling all our pupils with 'growth mind-sets' has become a key priority for the school.
We want all our pupils to enjoy challenges, embrace their mistakes as part of the learning process, value the importance of effort, respond carefully to feedback and take inspiration from others. This will help them to achieve, not only with us, but also in their future lives as adults. Click here for further details.
Learning and Life Skills Curriculum Contact
Miss Rosso missrosso@darlinghurst.co.uk