Active Citizens

Why do we promote active citizens at Darlinghurst?
Children are at the centre of all we do and encouraged to participate actively in learning and academy life. We provide opportunities for children to develop as active citizens within the academy, making positive contributions. We encourage children to play active roles, taking community action. This demonstrates our sense of belonging here and supports our children in considering the wider community and world.
Junior Leadership Team

Our aim is to be reliable role models for the rest of the school. We encourage positive behaviour and thrive to achieve high expectations.

Junior Governors

Our aim is to give every pupil a voice and ensure their views and opinions are heard.

Sports Committee

Our aim is to ensure the children of Darlinghurst stay active and healthy through positive play and exercise.

Play squad

Our aim is to make the playground safe, fun and enjoyable for all.

Eco team

Our aim is to promote eco-awareness across the school, making a difference to our 'footprint'

Peer Mediators

The aim of the Peer Mediation Programme at Darlinghurst is to enable "Peers" to resolve conflict within the school playground using mediation as well as acting as "Playground Buddies" and Mentors
Prefects
Prefect Teams 2019-20

Emily

Thomas

Zaki

Evie

Sanaa

Sammy

Jack

Isabelle J

Lara

Isabelle C

Katie

Willow

Olivia

Megan W

Faith

Madison

Thomas S

Lucy A

Ashe

Teddy

Peter

Ruby

Daisy

Millie

Evie P

Gracylee

Lily-Sue
Junior Governors
At Darlinghurst Academy we have a group of Junior Governors who work hard to ensure the voices of all the children in school are heard. The Junior Governors are made from a group of students who have been democratically elected for the role by their classmates. Both Key Stage 1 and 2 are represented at meetings.
Role of the Junior Governors
·The Junior Governors' main job is to represent the children in their class and ensure that all voices and opinions in school are heard.
·To feedback to their classes on matters discussed at Junior Governor meetings.
·The Junior Governors have been involved in the interviewing of new staff at the school and have done a brilliant job of selecting candidates.
·Junior Governors are often called upon to represent our school at important events.
·Liaising with the Principal on the students' issues and concerns.
Meetings
The Junior Governors liaise with Ms White on a regular basis. This academic year they have been fundraising to improve the play spaces around the school.
The Sports Council
The Sport Council's role is to be a voice for the children of Darlinghurst. Their aim is to ensure the children of Darlinghurst stay active and healthy through positive play and exercise. Working closely with the PE team to ensure that the children's ideas and suggestions are heard and implemented when appropriate. The children communicate with the sports council mainly through a suggestion box, which is kept in reception. However they can be approached throughout play and lunch times also.
Play Squad

Our student led Play Squad work alongside our specialist team and midday assistants to create a more structured, active and fun lunchtime for all children. Zoned areas offer children chances to learn to play safely and stay active using a variety of equipment. The Play Squad are trained by our specialist teachers and then pass on their knowledge to their peers, encouraging them to play, broadening active opportunities and experiences for all our students.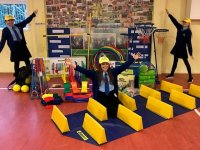 Eco-schools
Caring for our environment is a huge part of daily life in our school, especially as it promotes our core value of belonging. Our Eco-team, which consists of pupils from Years 1-6 work hard to promote eco-awareness across the school in a bid to gain the Silver Award. This year, we have continued our work on reducing waste across the school by promoting the use of recycling bins in the classroom and on the playground. The team gave talks at a Staff INSET and Nursery, Reception and Year 1 to help develop their understanding of what to recycle in school and have interviewed members of our midday team. Children enjoy litter picking at break and lunch so that we are caring for our outside environment. In addition, we have introduced crisp packet, pen and battery recycling schemes for our school and local area.
Following the success of the Great Big School Clean last year, we included this as part of a school-wide Eco-week in the Spring Term. Nursery conducted science experiments to see what materials would biodegrade. They looked at plastic and a banana skin. Year 4 talked about the effects of Climate Change on the planet and Year 6 wrote to the Canadian Prime Minister persuading him to stop seal hunting in his country. The week ended with a competition for the cleanest and most litter-free classroom, with children across the school tidying different parts of the school and tallying what they were recycling. The winners were presented with trophies made by the Eco-team from recycled materials. Some of our team members also took part in a Beach Clean Up to help keep our local beaches litter-free.

In the Summer Term, Splash Heroes, run by Essex and Suffolk Water, visited the school and gave informative assemblies to Key Stage 2 on how we could save water. Year 5 later completed a workshop, quizzing them on what they had learnt and encouraging them to create a song about how to save water. The Eco-team also attended the Refill Room in Leigh-on-Sea which sells dried goods in bulk which customers weigh out and put into jars or paper bags, thereby reducing plastic packaging.
In the Autumn Term, we conducted a school-wide energy audit. The results have helped us see what we can do as a school to reduce our energy usage further. Mrs Powell now runs an Eco-club each week to help us complete all the jobs we need to do. We will shortly be launching 'Energy Challenges' a borough-wide eco-challenge whereby schools complete a series of challenges to help make their school more eco-friendly, reducing energy usage. You can find out more information here:
www.energychallenges.org.uk/about/
Peer Mediation Programme
The aim of the Peer Mediation Programme at Darlinghurst is to enable "Peers" to resolve conflict within the school playground using mediation. This important role can be extremely beneficial to the children in the playground as well as the peer mediators themselves. They act as "Playground Buddies" and Mentors. The aim of the scheme is to encourage our children to be good role models and play an important part in creating a safe, friendly, happy and peaceful atmosphere for children during lunchtime. The mentors will also meet with their designated mentee once a week with the aim of developing positive relationships with them and offering support and guidance as well as encouragement to succeed.