British Values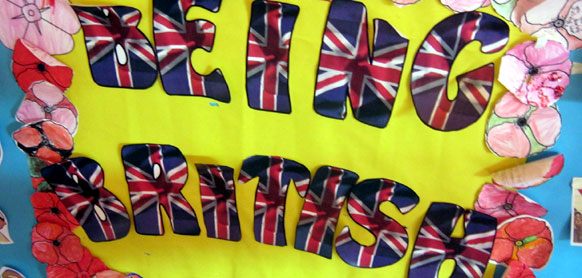 British values is a recognition and understanding of British Values is an important aspect of life at Darlinghurst Academy. British Values are promoted through much of what we do, with strong links to the Social, Moral, Spiritual and Cultural (SMSC) aspects of the curriculum and during our schools assemblies, Religious Education and PSHE lessons. The values are integral to our school values of Achievement, Belonging, Confidence, Determination and Excellence.
As a school, we value and celebrate the diversity of all our pupils and the communities that we belong to. Alongside this we value and celebrate being part of Britain.
As a whole school, we have discussed and agreed our own school values: achievement, belonging, confidence, determination, leading excellence. All of the children and adults in the school discussed and agreed on these. Our school is divided into four houses, named after HMS training schools which are led by their house captains. Mr Turner: HMS Raleigh - Yellow, Miss Lynch: HMS Dolphin - Green, Mrs Hahn: HMS St Vincent - Red, Mrs Dutton: HMS Ganges - Blue. The children receive team points to reward positive behaviour especially that above and beyond what we would normally expect. Team points reinforce courteous and collaborative behaviour therefore encouraging them to work well and respect everyone in our community.
Our children regularly participate in many sporting events. They always make us proud with their attitude and behaviour and often receive compliments and commendations demonstrating our respect for others and the right spirit of competition.
Messages of hate can take many forms. Click here to find Q&A and resources to help you protect your child.