British Values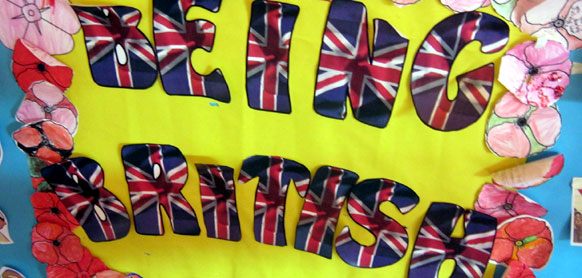 The Department for Education (DfE) has recently reinforced the need "to create and enforce a clear and rigorous expectation on all schools to promote the fundamental British values." The Prime Minister has stressed the importance of these value recently too.
The DfE gives a five part definition of 'British Values':
Democracy
The rule of law
Individual liberty
Mutual respect
Tolerance of those of different faiths and beliefs
At Darlinghurst, we have embedded these values throughout our school, both within and beyond the curriculum. We value the diverse backgrounds of all our pupils, their families and the people in the wider community and we undertake a variety of events and lessons to celebrate them.
This is enriching for everyone because it teaches tolerance and respect for the differences in our community and the wider world. The school ethos and behaviour policy revolves around respect as a core value and the importance of laws, whether they are those that govern a class, the school or the country, are consistently reinforced throughout regular school days, as well as when dealing with behaviour and through school assemblies.
Our teaching of SMSC (Spiritual, Moral, Social, Cultural) across the whole school curriculum actively promotes all of the identified British values and our broad and balanced RE curriculum enables pupils to learn about and respect the beliefs of those from a number of different faiths.
Within the boundaries of our school's rule of law, children are given individual liberty and are encouraged to make considered decisions for themselves, be it which choice of challenge they opt for in a lesson, how they record their work, whether or not to run for a junior governor position or which of our numerous and varied extra-curricular activities to attend. Individual liberty is also taught through e-safety and PSHE (Personal, Social and Health Education) lessons that advise pupils on how to safely exercise their rights and personal freedoms.
As a whole school, we vote for the members of our junior governors every year. This teaches us about democracy and reminds the children how valued their opinions are and how they can play an important role in decisions that are made in the school. We have regular assemblies which uphold traditional values of empathy, respect and tolerance alongside our school values as well as covering key religious festivals across the year. These values are also taught within formal personal development lessons and RE lessons as well as through an informal nature throughout the school day. We also have visits from parents and other members of the community, who share their experiences and beliefs with us.
Our 'British Values' and '100 people' displays provide the children with information about the core British values as well as helping them better understand the complex issues facing our planet and the resources we have to share by framing the global population as 100 people. We love being involved in local community events such as the festival at Chalkwell park, donating fresh produce to the local Waitrose store and singing at the Martha Rose nursing home. We raise a great deal of money for charities too, supporting people locally, nationally and around the world. We like to celebrate important events such as the Commonwealth games, the Olympics, the World Cup and the Jubilee.
As a whole school, we have discussed and agreed our own school values: achievement, belonging, confidence, determination, leading excellence. All of the children and adults in the school discussed and agreed on these. Our school is divided into four houses, named after HMS training schools which are led by their house captains. Mr Turner: HMS Raleigh - Yellow, Miss Lynch: HMS Dolphin - Green, Mrs Hahn: HMS St Vincent - Red, Mrs Dutton: HMS Ganges - Blue. The children receive team points to reward positive behaviour especially that above and beyond what we would normally expect. Team points reinforce courteous and collaborative behaviour therefore encouraging them to work well and respect everyone in our community.
Our children regularly participate in many sporting events. They always make us proud with their attitude and behaviour and often receive compliments and commendations demonstrating our respect for others and the right spirit of competition.